SR-71 (#61-7971) Evergreen Aviation Museum
McMinnville, Oregon
---
History of SR71 61-7971
This is an original SR71(Airforce serial 61-7971, NASA serial 832) built at Lockheed "Skunk Works" factory in Burbank California in 1965. It was first flown November 17, 1966 and last flown September 30, 1997. It is now on display at Evergreen Aviation Museum in McMinnville, Oregon.
From October 1973 thru April 1974 this SR71 and others conducted the Air Force operation "Giant Reach". In the operation the SR71s flew from Seymour-Johnson Air Force base in North Carolina to the middle east non-stop in flights that lasted over 10 hours. During the operation the SR71s would fly at Mach 3 (2100 miles an hour) for five hours or more at altitudes of 80,000 feet. Over the middle east the SR71s took reconnaissance photos that gave Israel valuable intelligence during the 1973 Yom Kooper War. In the war Syria and Egypt took back territory lost previously to Israel. Israel was able to successfully counter attack partly because of the valuable intelligence gathered by the SR71s. Of the nine sorties flown in operation "Giant Reach" SR71 61-7971 flew one. On 25 January, 1974, Pilot Buck Adams and RSO Bill Machorek flew SR71 61-7971 in a round-robin sortie to the middle east in 10.04 hours from North Carolina. The SR71s were originally scheduled to land in England for recovery but this was not allowed after England expressed fears that middle east countries would retaliate against England with oil embargos if it participated in the missions. Other reconnaissance missions were conducted by this aircraft until 1990 when the Air Force SR71 program was cancelled, (it has 3,512 flight hours, only 10 of which were used in the Yom Kooper mission).
The SR71 Air Force program was cut in 1990 and no planes flew missions until 1995 when two SR71s were reactivated (this SR71 being the first of two SR71s reactivated). This plane was also used by NASA from 1991- 1994 for high speed jet research (see pictures below), although it appears to have been a backup aircraft to two other SR 71s NASA was using. It was reactivated by the Air Force in 1995 as one of two SR71s for reconnaissance missions. It was the first of the two aircraft delivered to the Air Force after Lockheed Martin refurbished the plane in 1995. The SR71 Air Force reconnaissance program was cut in 1997 by a line item veto from President Clinton and the planes were later deactivated in 1998 by the Air Force. Its missions from 1995 to 1997 remain classified.
When SR71 61-971 was last flown in 1997 it had logged 3,512.5 hours of flight time (second most flight hours behind a SR71B trainer aircraft with 3,967 hours). The Air force donated the SR71 to the museum in 2002. The SR71 is still the fastest and highest flying manned aircraft. The last SR-71 flight was made on Saturday October 9, 1999, at the Edwards AFB air show and now all SR71s are at museums.
More information on operation "Giant Reach": http://www.wvi.com/~sr71webmaster/griffiss.html.
More information on SR71s: http://www1.dfrc.nasa.gov/gallery/photo/SR-71/
---
Pictures of SR71 61-7971 in Service
Picture of SR71 61-7971 taken in 1990.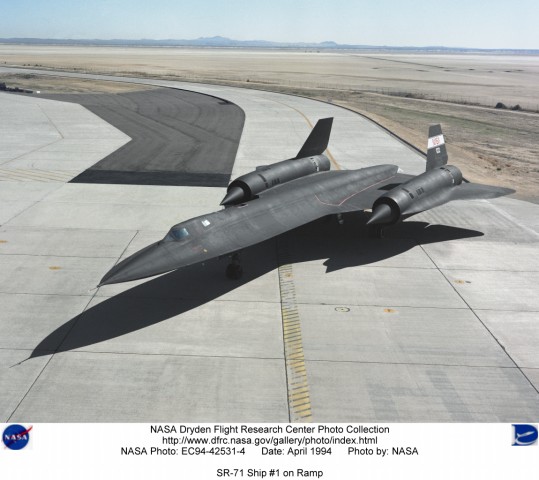 Picture of SR71 61-7971 taken in 1994.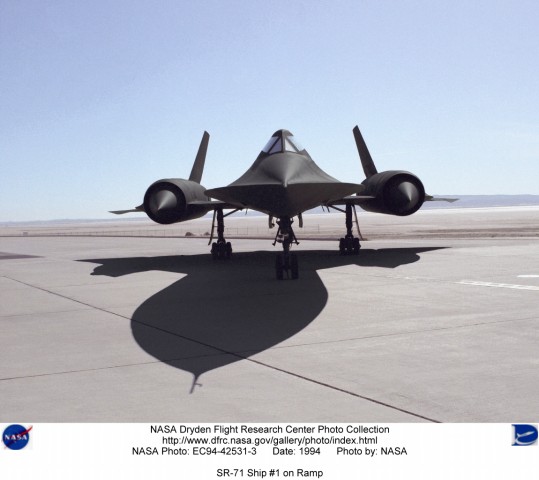 Another picture of SR71 61-7971 taken in 1994.
---
If you have any information about SR71 61-7971 please email me at aaronsavage@yahoo.com.